Managing your diabetes is never something you should have to do alone. A good support group, an educated doctor, and a trusty glucose meter are all necessary components of showing your diabetes who is boss.
Today, we're focusing on the last of those three—glucose meters. Finding the right glucose meter can seem pretty overwhelming at first. After all, there are a lot of companies out there that claim they have the "best glucose meter."
So, to help you in your quest for the best glucose meter to help you manage your diabetes, here are some of the best-rated glucose meters on the market today! 
AgaMatrix Jazz Wireless 2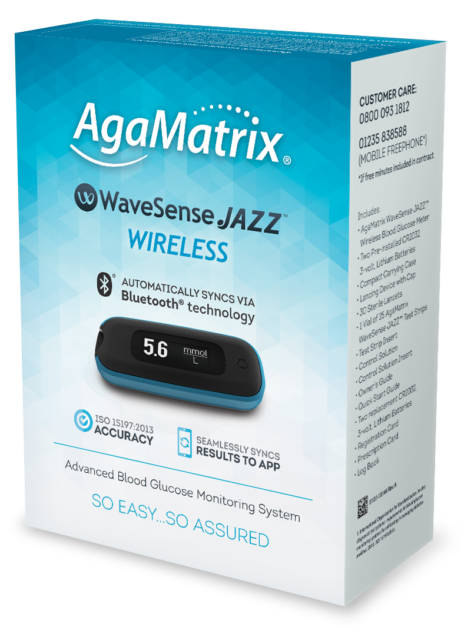 "It graphs your readings over time so you can see trends in your health and make appropriate changes. It also lets you share your data with your physician and has an inbox for communication purposes. The AgaMatrix Jazz Wireless 2 is among the best glucometers on the market because it is accurate and easy to sync to its companion diabetes manager app." – From Top Ten Reviews.
The Jazz Wireless 2 Blood Glucose Monitoring System uses advanced technology called "WaveSense" to deliver very reliable readings with 99% accuracy. What many users will find nice about this meter is that they'll have the ability to capture, analyze, and share their glucose results easily through a Bluetooth wireless connection. With AgaMatrix Jazz 2, users can record glucose, carb, insulin, and weight data in one place to help visualize trends.
Overall, the meter is very easy to set up. With results in as quick as five seconds after using, the AgaMatrix Jazz Wireless 2 also automatically syncs all the results to the app. 
A slim meter design makes for discreet testing and the meter includes an LED display. The meter is also compatible with supported iOS and Android™ devices and allows for the sharing of glucose results in real-time with family or carers via push notifications.
Pops Rebel 
"At MNGI Digestive Health we are Caring People Caring for People. It is important to offer valuable benefits to our employees and found we had the opportunity to help our employees and/or their family members with diabetes. We are looking for opportunities to improve health and prevent claims due to not properly monitoring their diabetes. We found Pops Diabetes Care to be a cutting edge tool that offers a much easier method of testing than other diabetes management systems. The app is engaging and increases communication to their loved ones and physician." – Shannon, MNGI
Rebel is one of the easiest to use meters on the market — as it combines the traditional testing kit with multiple components into one meter that can attach directly to a smartphone. This feature, along with an easy-to-use app, is a great feature to have. Nothing is worse than getting a glucose meter that has a terrible user interface. 
The ability to fit the Rebel meter easily into the pocket of the owner is also critical for folks who are always on the move. The added convenience of Rebel makes it a great option for all people, regardless of their lifestyle. 
In addition to the convenient design of Rebel, this glucose monitoring system also caters to all forms of diabetes (pre-diabetes, type 1, and type 2). This allows the system to cater to the different management styles of those with different types of diabetes. Rebel is a one-size-fits-all meter.
But, not only is it important that the best glucose meter is functional, the blood sugar meters should also be improving the users' lives. Rebel is proven to reduce A1c levels for those that use it by 1 point. That means people that use Rebel will reduce their own healthcare expenses. With Rebel's Mina, a virtual assistant, you will always be on top of your diabetes and blood sugar management. 
To learn more about how Rebel can improve your life, contact Pops today!
Advocate Redi-Code + Speaking Blood Glucose Meter
"I have been using the Advocate Redi Code meter for years. It is a reliable way of measuring your blood glucose levels on a daily basis. This compact machine provides the readings in a clear and audible voice and the numbers are bold and easily read. I highly recommend it." – From Advocate's site. 
Advocate Redi-Code+ Speaking Blood Glucose Meter is a reliable option for those who are looking for both safe and accurate monitoring of blood glucose levels. One of its defining features is that it has the ability to speak, which can be beneficial for users who have sight impairments. The meter can speak in both English and Spanish. 
Some other great features of Advocate Redi-Code+ include fast results in five seconds and six daily alarm reminders to help ensure that users are remembering to check their blood sugar levels when appropriate. Users will also appreciate the big-screen display which makes results clear and easy to read, as well as pre and post-meal testing.
Freestyle Libre
When it comes to glucose meters, not all of them need to involve sticking your finger to draw blood. This isn't a big deal for many folks, as they've simply gotten quickly used to it. However, for some people with diabetes, the idea of sticking your finger multiple times a day is rather dreadful. For this reason, continuous blood glucose monitoring systems like Freestyle Libre were made.
Freestyle Libre allows the user to insert a thin sensor under their skin (not nearly as painful as it sounds), allowing you to wear it all day. Not only does this provide the added benefit of not needing to prick your finger throughout the day, but it also monitors all day long so that you can gain a better understanding of your glucose levels as they fluctuate throughout the day. However, you do have to manually scan the sensor to actually see a reading.
Dexcom G6
While Freestyle Libre involves manually scanning the sensor to get a glucose reading, the Dexcom G6 uses a similar sensor but automatically keeps tabs on your glucose levels throughout the day. While users have to once again be comfortable with inserting the sensor under their skin, they can gain valuable insight into how their dietary choices and activity levels impact glucose.
In addition to automatic glucose monitoring, the Dexcom G6 is also smartphone and Apple Watch compatible. Therefore, users can either have their reading sent wirelessly to the Dexcom handheld device, or they can pair with their smartphone or Apple Watch through Dexcom's app. In a world that is becoming more and more technologically advanced, compatibility is something everyone wants in their devices—from laptops to speakers to glucose meters.
ReliOn Prime
If you're looking for a cheaper glucose meter solution that still gets the job done, ReliOn Prime is one of the most affordable options on the market today. For less than $18, you can get the meter along with 50 strips. Keep in mind, the meter and the strips must be bought separately.
The ReliOn can store up to 250 blood sugar readings, which is a surprisingly high amount for a meter at this price point. However, the meter does not have a smartphone or app pairing capabilities. Of course, that comes as no surprise, but it is important to note in case you are curious about understanding your glucose levels over the long term. For this reason, the meter makes for a great option if you are traveling. 
Care Touch Diabetes Testing Kit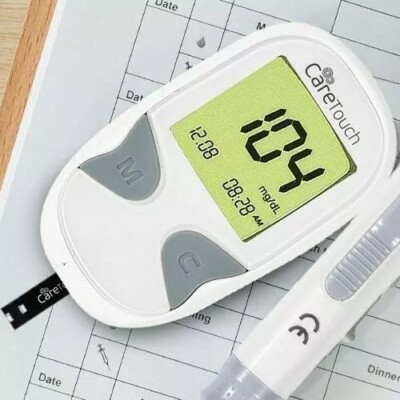 Care Touch offers users a fast result through an inexpensive meter. Also, its test strips are reasonably priced. Although it is far from the most technologically advanced meter you'll find on the market, it does offer data annotation. For example, you can add details like "post-meal" or "post-workout." By doing so, you can get a better understanding of how your day-to-day activities affect your glucose levels.
The meter is also extremely easy to use, and you can purchase a complete kit, which includes the monitor along with 100 test strips, a lancing device, 30 lancets, and a carrying bag plus a battery.
Accu Chek Aviva Plus Meter
Easy to handle and extremely accurate, the Accu Chek Aviva Plus is an exceptional glucose meter. In fact, the Accu Chek Aviva Plus Meter is so spot-on with its levels, it has won awards because of its accuracy. The meter also allows you to download test results to your computer. This feature is great for those who want to keep track of their blood sugar levels over a long period of time and identify trends. While this meter is a little pricey, it is a great option for those who need a new meter that produces consistent results day in and day out.
The Importance of a Good Blood Glucose Meter
It's important to make sure that you use a good blood glucose or blood sugar meter. Roughly 1 in 10 people throughout the US will struggle with diabetes. That number is likely to rise according to experts. With a high-quality blood sugar metering system, you'll be able to help them improve their quality of life and overall health.
Find the Best Glucose Meter For You
If you need more assistance in finding the best blood glucose meter to help you show your diabetes who's boss, contact Pops! We'd be happy to help you.